VIPer12A Dip-8 (Low Power Offline SMPS Primary Switcher IC)
In Stock
Description
The VIPER12A is a SMPS controller IC that consists of a PWM controller with a power MOSFET. It can take in AC voltage from 85V to 265V and convert to low level voltage like 5V with output current from 10mA to 200mA.
Pin Configuration
| | | |
| --- | --- | --- |
| Pin Number | Pin Name | Description |
| 1,2 | Source | Source pin of the switching MOSFET |
| 3 | Feedback | Feedback for the SMPS circuit |
| 4 | VDD | Vdd voltage 9V to 38V |
| 5,6,7,8 | Drain | Drain pin of the switching MOSET |
VIPER12A Specifications
SMPS Switching Buck Regulator
Output Voltage:  5V to 16V
Input Voltage (AC): 85V to 265V
Input Voltage frequency: 50/60Hz
Output Current: 200mA (max)
Efficiency 70% to 80%
Rise time and Fall time 50ns and 100ns respectively
Available in PDIP and SO 8-pin package
Equivalent for VIPER12A: VIPER22A, AP8012
Other Switching Regulators: LM2596, LM2576
Introduction to Viper12A
The Viper12A is popular SMPS buck controller device from the ViperXX series of ST Microelectronics. The controller can convert AC voltage from 85V to 265V and convert it to regulated DC voltage with a maximum output current of 200mA it is commonly used as a replacement for transformerless power supply circuits. The IC is a combination of a PWM controller and a power mosfet and can work as a efficient AC to DC converter with very few external components. The below circuit is a sample application circuit for the ViperA controller IC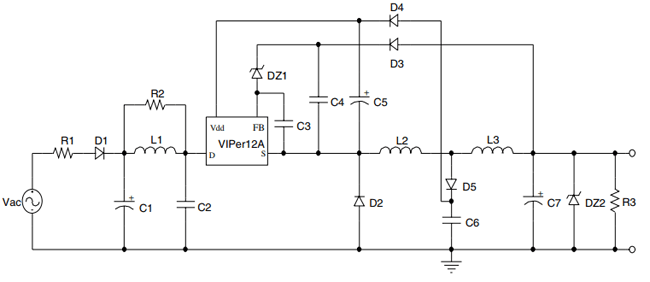 The output voltage and current depends on the value of capacitor and inductor chosen for the circuit.  The above circuit is designed for 5V, the complete details on how to use this IC can be found in Viper12A Application notes. The IC being a buck regulator is designed for either 5V or 12V output voltage with a maximum output current of 200mA. Another important feature of the IC is its operating voltage Vdd which as you can see here is taken from the regulated voltage side. The initial voltage for the regulation to start will be provided by a capacitor. More details can be found in the design notes shared above.
Once considerable drawback of the IC is its low output current, if you are looking for high current DC-DC buck regulator then you can try the LM2576 Regulator IC.
Applications
Low power supply systems
LED drivers
Remote Microcontroller designs
SMPS circuits
Auxiliary Power Supply
2D-Model (PDIP 8-pin)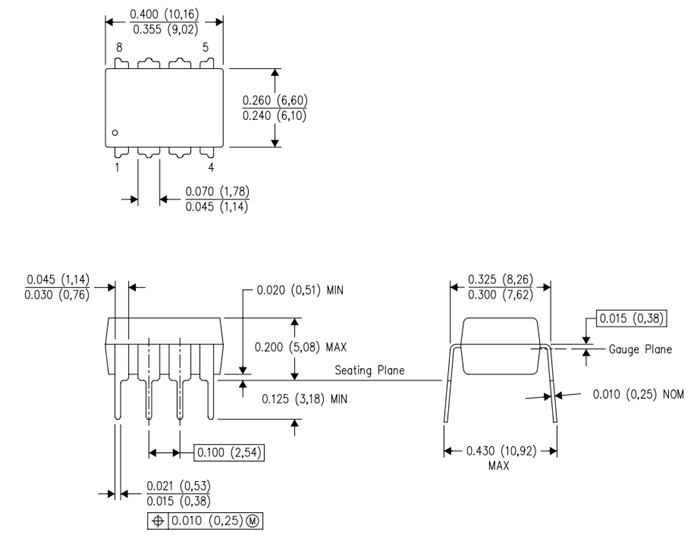 Only logged in customers who have purchased this product may leave a review.
Select the fields to be shown. Others will be hidden. Drag and drop to rearrange the order.
Image

SKU

Rating

Price

Stock

Availability

Add to cart

Description

Content

Weight

Dimensions

Additional information